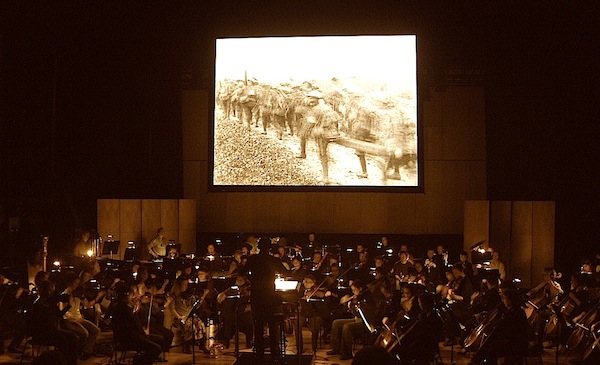 My scores to the following silent films are available to perform live with the films.
I have toured Silent Shakespeare with live music in cinemas across the UK, Belfast, Madeira and Sao Paulo film festivals, and at The Globe, London; The Battle of the Ancre at the Imperial War Museum, London; and, The Battle of the Somme performed by the Philharmonia Orchestra at the Queen Elizabeth Hall, London, and a UK tour in 2011/2012.
If you are interested in you showing any of these films with live music or would like more details please contact – laura@laurarossi.com
I would also be very interested in scoring and performing any other silent films with live music.
The Battle of the Somme – scored for full orchestra (The important 1916 historical war film from the Imperial War Museum)
The Battle of the Ancre – scored for chamber orchestra. (live footage of the 1st world war from 1917).
Silent Shakespeare – a BFI collection of 7 short films from the USA, England and Italy from as early as 1899 (total running time 88 mins) scored for Piano, Guitar and String Quartet.
Twilight of a Woman's Soul – a Russian silent film by Bauer, scored for Piano Trio.
Tusalava – an Avant Garde film by Len Lye, scored for 5 Pianos.
C.O.D. – from the BFI DVD British Avant Garde series Britain in the Twenties.