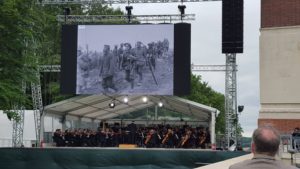 The project commenced on 1 July 2016, with Sakari Oramo conducting the BBC Symphony Orchestra in a live performance of The Battle of the Somme film, as part of the national commemorative event at Thiepval Memorial, France.
Broadcast live on BBC TV, the event was attended by world leaders, members of the British Royal Family, servicemen and the 8000 members of the public.
Live orchestral screenings took place the same day with performances in London, Manchester, Berkhamsted and Southend-on-Sea.
July Screenings
Screenings in July have also included Camden Symphony Orchestra (which received a standing ovation). Young musicians aged 10 – 15 performed with Chetham's Sinfonia at Manchester Cathedral, who also featured on BBC The One Show with composer Laura Rossi and IWM curator Matthew Lee.
Chester Philharmonic performed at Queen's Park High School with a second half led by students. On Sunday 17th July there was a sold out concert by Chandos Symphony Orchestra in Pershore, Worcestershire.
Audience Engagement
Composer Laura Rossi and Toby Haggith (IWM senior curator) have been introducing the screenings with a short pre-concert talk about the film and the music.
All screenings have been packed out and have been very engaging for the orchestras and audience members. Feedback has been extremely positive with many attending moved to tears. Orchestras and conductors have also enjoyed the experience of performing live with film. Many orchestra members have found, since being involved in the project, their own personal connections to the battle which have been included in their programme notes.
Key Events
On 18 November 2016, which will mark 100 years since the end of the battle, the BBC Concert Orchestra will perform live with the film at the Royal Festival Hall, London.
Other overseas performances include France, Germany, Canada and two performances in New Zealand by The New Zealand Symphony Orchestra.
About The Project
Somme100 FILM are working with the Imperial War Museums (IWM) as part of the First World War Centenary Partnership, to show this film to audiences across the world alongside performances of Laura Rossi's acclaimed score. Somme100 FILM is supported by the Arts Council England, and project partners Faber Music.
Composer Laura Rossi and specialist film historians can be booked to give pre-concert talks about both the film and the music as part of the live screening.
There is also a linked education project with free downloadable resources for secondary schools.
Get Involved
There are already over 60 confirmed live screenings and more performances are being actively sought by amateur, professional and youth orchestras.
To find a screening near you, or if you are interested in performing or putting on a live screening please visit: www.somme100film.com
Watch this video to find out more: