The sister film to The Battle of the Somme, The Battle of the Ancre was filmed between September and November 1916 and contains the first shots of tanks in use at the Front – a sequence that elicited "oohs" and "ahhs" from the opening-night spectators, many of whom had never seen a tank in action before. In between battle sequences, audiences were shown the human side of war as the British "Tommies" queued up to receive their mail and consume their food rations and fraternization between German prisoners and their British captors. Box office takings were even higher in the first three months of release than for its predecessor The Battle of the Somme, due to footage of the previously unknown tanks.
Dr. Toby Haggith from the IWM has written about the restoration here
Composer Laura Rossi's new score for chamber orchestra is in 5 movements, which accompanies the five parts of the film. The music depicts the varied emotions conveyed throughout, reflecting the more poignant moments as well as echoing brighter scenes of the high-spirited soldiers.
The film was screened at the Imperial War Museum with the premiere of Laura's score performed by the Ealing Symphony Orchestra and conducted by John Gibbons.
The music has recently been recorded and will be released with the digitally restored film 2016. The newly restored film and recorded score premiered at the 2012 London Film Festival at the NFT.
Directed by G Malins and JB McDowell
Running time 65 minutes
Scored for Chamber Orchestra; 1 Flute, 1 Oboe, 1 Clnt in Bb, 1 Bassoons, 1 Timpani/Percussion, Piano, Strings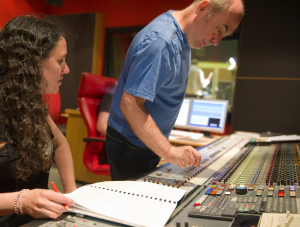 Ancre video clip – Dressing Station
Ancre video clip – Bombardment
Ancre music clip – The Wounded