Frederick George Ainge 1896 – 1986
Below is a brief account of the life of Frederick George Ainge written by his niece Mary Cuzner.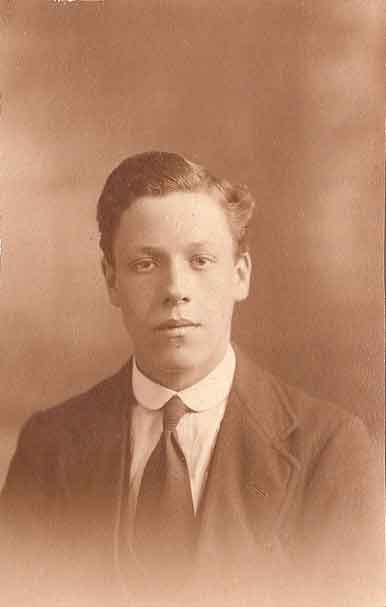 Mrs Ainge gave birth at her Birmingham home to twin boys on 13th March 1896. They were not expected to survive but she said that she wiped her finger dipped in Brandy round their mouths and George Frederick died but Frederick George survived. He grew up teased by his three older sisters the middle of which was the mother of Laura Rossi's Grandfather (i.e. her great-grand mother)
After leaving school at 14 Fred attended a technical college where he learnt office skills including shorthand. When he was 18 the First World War broke out and he joined the RAMC in 1914. His war service took him to the notorious battlefields of Northern France where he would take the wounded from the trenches and battlefields to the medical centres and help to treat them. His awful experiences he recorded in his diary. Among his lifetime's souvenirs is an 'I regret to inform you' letter to his father stating Fred was in hospital with wounds which were "multiple gun shot, severe". How shocked the family must have been, but miraculously he survived with just some shrapnel which remained in his leg for the rest of his life. On reading the diary Laura was amazed to find out that he was at the very place in northern France featured in the film for which she was composing the music. Of course no family member alive now saw Fred at that age except in photographs but his great-niece reckons she can identify him in the film, carrying one of the stretchers. It was a terrible experience for the young lads and in those days there was no post-traumatic counselling.  He was demobbed in April 1919.  He continued to attend an annual reunion of an ever-dwindling group of old soldiers into his eighties.
Back in civilian life he worked for the next 42 years for a shipping agent and became the manager of their Birmingham office.  He was helped in his career by his lively personality and ability to get on with people with conversation and ever ready jokes.  He was very methodical and liked to keep to a regular routine.
His ability to attract the ladies was something of an embarrassment and partly led to the break-up of his marriage. It still amazes me that when he was in hospital within a month of death, at nearly 90, he told me where to find the 'phone numbers of several lady friends and to explain why he hadn't been in touch!'
My childhood memories of him were his weekly Sunday teatime visits followed by and evening of family card games with the wireless programme 'Grand Hotel' as background music.  He was a devoted family member, living for periods with his parents and with his younger sister. After his retirement in 1961 he went on a sea-cruise to visit his elder sister in Australia (following which two of the ladies he'd met came to England to visit him!) and after his deteriorating eye-sight made him give up motoring he made his weekly visit to his middle sister by bus and train.
He rarely spoke about his wartime experiences but did mention about how bad the ferry crossings were. His catchphrase which ended every visit was 'Keep in the dry and the warm' which perhaps stems from his many days and nights in the cold and the rain in the trenches. As his executrix following his death on 2nd March 1986 I sorted his papers and photographs and war diaries.
Written by Mary Cuzner (niece of Fred Ainge)