07 – Chetham's Sinfonia conducted by Stephen Threlfall
Date – 5th July 2016, 7:30 pm
Venue – Manchester Cathedral, Manchester, M3 1SX
Chetham's Sinfonia performed a sold out screening at Manchester Cathedral on July 5th 2016. IWM curator Dr Toby Haggith and composer Laura Rossi gave a pre-concert talk.
Here's a photo of the conductor Alex Mackinder from Durham University orchestra who came along to this performance to help him learn the score and watch Stephen Threlfall conducting it.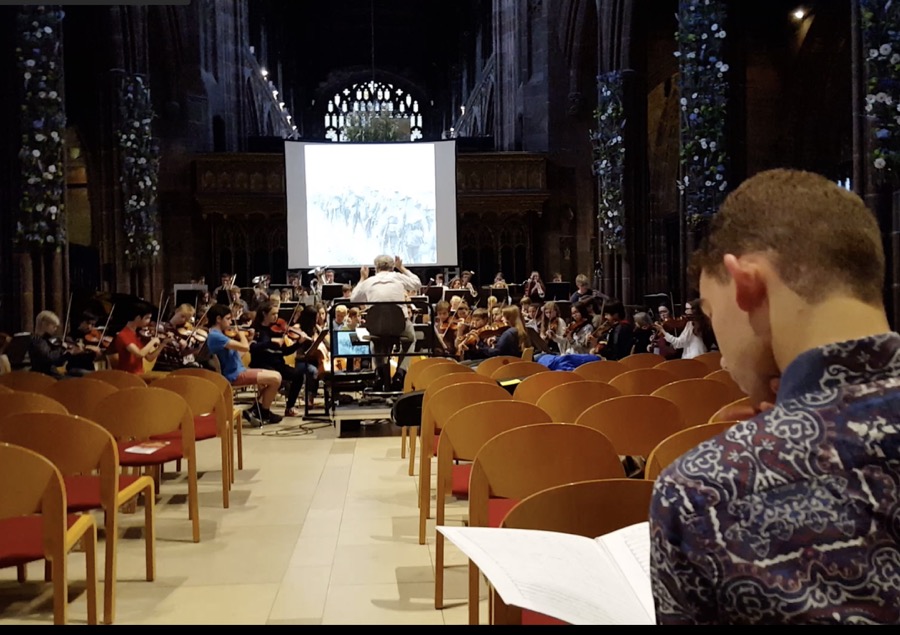 I was lucky enough to meet and work with these kids in June. They are such a great bunch – brilliant musicians and so full of energy and fun too! This is also due to the brilliant teachers there – who are fun, inspiring and the whole place is buzzing!
Chetham's put on a very special and moving screening, not only did they play brilliantly, but there is something very moving about watching this film with a youth orchestra performing, who would have been a similar age to the men in the film.
Laura Rossi (composer)
I wanted to say how thrilled I was by the whole experience. I was so exhilarated by the way the kids performed and responded and so pleased that to be honest it went so well and was in sync with the film. You made many instant friends and the time we spent with this and you being there I know I gave something extra for the students which in a way was an unspoken but tangible bonus. They will never forget that performance. Off to Chets to see how the Symphony Orchestra are doing but with fragments of your work buzzing around my head. In my dozing off moments yesterday I kept seeing bar lines and captions! It was a real milestone performance at Chets. So pleased so proud and so grateful.
Stephen Threlfall (conductor and director of music at Chetham's)