44 & 45 – Ealing Youth Orchestra conducted by Leon Gee
Date(s) – 13th November 2016, 1:00 pm (open schools rehearsal) & 7:30 pm
Venue – William Perkin C of E High School, Oldfield Lane North, Greenford, UB6 8PR
Ealing Youth Orchestra's moving Somme tribute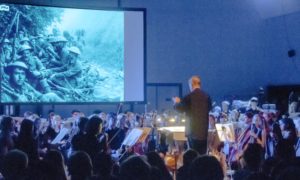 EYO performed to a packed house in their Remembrance Day concert on 13th November, giving heartfelt performances of A Shropshire Lad by George Butterworth (who was killed at the Battle of the Somme) and Laura Rossi's score to the original 1916 film The Battle of the Somme. Performing a live score to accompany the screening of the film was a first for EYO and something they carried off with immense technical assurance and great feeling.
The performance was given in the presence of the composer Laura Rossi, who gave warm praise to the orchestra, noting particularly the depth of emotion achieved. It was also EYO's first performance in the superb new Performance Centre of William Perkin High School, a venue to which the orchestra will undoubtedly return.
There was an open schools rehearsal in the afternoon.
After the evening performance there was a Q&A with composer Laura Rossi and conductor Leon Gee.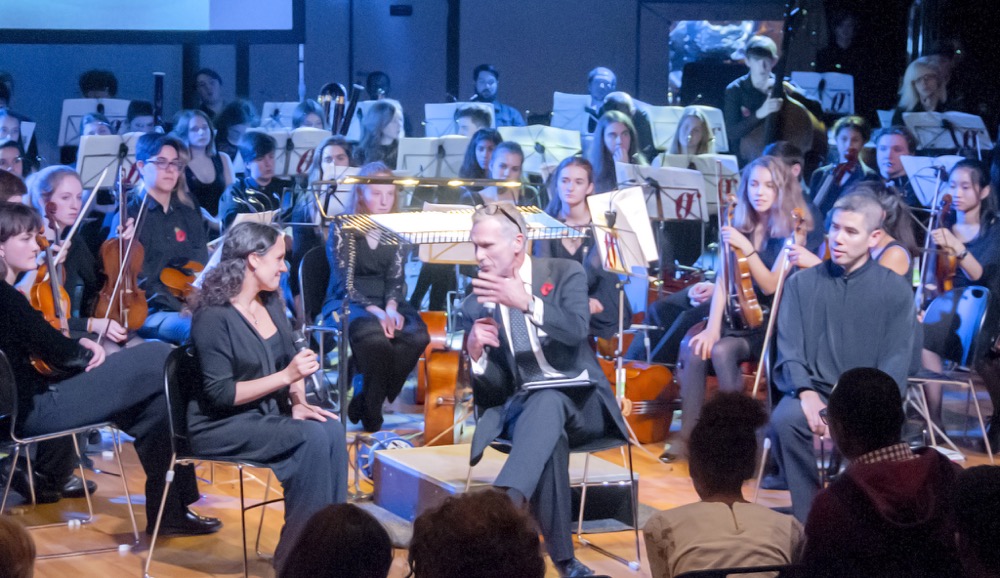 "EYO's participation in the Somme 100 project was one of the highlights of our 2016-17 year. Many people commented on how moving it was to see and hear our young players engaging with Laura Rossi's haunting and evocative score to the original 1916 Battle of the Somme film. Many of them are not very different in age to the people on screen and they were stretched both technically by the demands of accompanying the film and emotionally by the subject matter. They thoroughly enjoyed it and the performance will live long in the memory of those of us who witnessed it."
Christopher Brown, Chair, Ealing Youth Orchestra.
https://www.eyo.org.uk/index.php/2016/11/eyos-moving-somme-tribute/
Audience feedback
"We enjoyed the performance so much last Sunday. Thankyou so much for all the hard work you do. What an incredible group of young people – and to bring all that out in them. Goodness..I found it particularly moving to really stare into some of those men's faces – at the way they were really staring back at the camera in bemusement really, as I guess most wouldn't have seen a moving camera…and then bringing my gaze to the players, so of this century, slightly unknowing maybe of how recent this all actually was…what they've inherited as a result. Thankyou."
"What a pleasure to be part of that wonderful evening with the EYO. From the choice of the Butterworth to ease us in, to the wonderful heartfelt playing of the orchestra – it was all so engaging and moving.   I was also very chuffed to be introduced to Laura and Leon – I was at the original concert of Laura's piece in 2006.  I was so impressed with that beautiful sound that Leon gets from the orchestra – and what an excellent venue to show case it."
"Thank you all so much for what I thought was a truly moving experience. The music was so fitting to the film coverage and the playing was amazing and the venue was inspiring!"
###
Gallery